Johnson Symposium
2018 Johnson Symposium on Faith & Society
Imam Asad Zaman
Rabbi Michael Adam Latz
Senator John Marty
Pastor Ingrid C. A. Rasmussen
Pastor Angela T. Khabeb
Sunday, October 14, 2018
"Repentance and Resistance"
Click here for the 2018 Johnson Symposium brochure.
Schedule
5:30-7:00 — Session One
Welcome
Confession
Pastor C. A. Rasmussen and Pastor Angela T. Khabeb
Presentations:
Imam Asad Zaman
Rabbi Michael Adam Latz
Response:
Senator John Marty
7:00-7:30 — Break
7:30-9:00 — Session Two
Panel Q&A
Reflection
Call to Action
Closing
About the Presenters: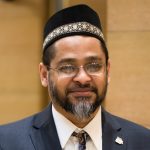 Imam Asad Zaman is Executive Director of the Muslim American Society of Minnesota. He is passionate about interfaith dialogue and social justice advocacy. He is committed to helping build and expand a Minnesota welcoming to all.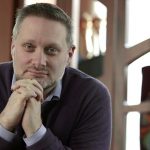 Rabbi Michael Adam Latz is a rabbi at Shir Tikvah congregation, co-chair of T'ruah: The Rabbinic Call for Human Rights, husband to Michael Simon and dad to Noa and Liat, and believes the holy task of today's synagogue is to marry the spiritual work of the sanctuary with the justice work of the streets.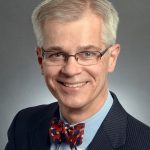 John Marty has been a State Senator over 30 years. John is a strong advocate for government ethics, environmental protection, and universal health care. He is a graduate of St. Olaf College with a B.A. in Ethics. John and his wife Connie live in Roseville.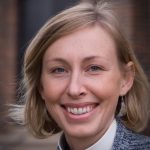 Ingrid C. A. Rasmussen and Angela T. Khabeb serve as pastors at Holy Trinity Lutheran Church. They are committed to shaping a vibrant community that is faithful to Christ's call to mercy, forgiveness, justice, and love.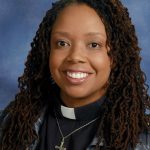 ---
Directions and parking information for Holy Trinity Lutheran Church are available here.
Previous Symposia
2017: Dr. Don E. Saliers and Emily Saliers: "A Song to Sing, A Life to Live: Reflections on Music as Spiritual Practice"
2016: Dr. Wil Gafney: "Sex, Gender, and Identity in the Scriptures"
2015: Dr. John Arthur Nunes: "Re-Imagining the Reformation from the Edges"
2014: The Rev. Nadia Bolz-Weber: "Deeply Faithful; Deeply Flawed: Telling the Truth about Ourselves, the World, and God"
2013: Dr. Larry Rasmussen: "The Reformation and the Fate of the Earth"
2012: Bishop Mark S. Hanson: "Living the Gospel in Turbulent Times"
2011: Rev. Heidi Neumark: "Building the Beloved Community"
2010: Dr. Marcus J. Borg: "An Emerging Form of Christianity Today"
About the Johnson Symposium

Holy Trinity has long sought to provide opportunities for conversations about faith and life. Designed to celebrate and honor the exemplary ministries of Pastors Ronald K. Johnson and Stacy K. Johnson during a creative and exciting period in the life of the congregation, the Johnson Symposium on Faith and Society is envisioned as an annual event in which a leading theologian, scholar, and/or practitioner will be present to lead conversations over a two day period on important issues facing the church and society today.