Johnson Symposium
2016 Johnson Symposium on Faith & Society
Rev. Dr. Wil Gafney
November 4 & 5, 2016
The Rev. Dr. Wil Gafney will be the featured presenter at the seventh annual Johnson Symposium on Faith and Society.  Rev. Dr. Gafney, Associate Professor of Hebrew Bible at Brite Divinity School in Fort Worth, Texas, will make three presentations under the topic "Sex, Gender, & Identity in the Scriptures."
The symposium will be held November 4-5, 2016.  Gafney will discuss "The Heart of Torah: Writing Sex, Gender, & Identity in Leviticus" on Friday, November 4, at 7:00 p.m. The two sessions on Saturday, November 5, include "Exodus, From Slavery to Slavery: Sex-Slavery in Ancient Israel" and "Queendom: Royal Women in Israel and Judah." Each presentation will be followed by time for questions.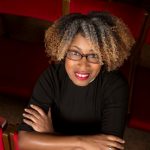 About Rev. Dr. Wil Gafney:
Rev. Dr. Wil Gafney, an Episcopal Priest, is a member of the historic African Episcopal Church of St. Thomas in Philadelphia, PA. Prior to joining the Episcopal Church, she served as a U.S. Army Reserve Chaplain. Rev. Dr. Gafney is the author of Womanist Midrash: A Reintroduction to the Women of the Torah and the Throne (2017), and Daughters of Miriam: Women Prophets in Ancient Israel. She is co-editor of The Peoples' Bible and The Peoples' Companion to the Bible.  She is a prolific blogger and regular commentator on current issues.
Directions and parking information for Holy Trinity Lutheran Church are available here.
Previous Symposia
2015: Dr. John Arthur Nunes: "Re-Imagining the Reformation from the Edges"
2014: The Rev. Nadia Bolz-Weber: "Deeply Faithful; Deeply Flawed: Telling the Truth about Ourselves, the World, and God"
2013: Dr. Larry Rasmussen: "The Reformation and the Fate of the Earth"
2012: Bishop Mark S. Hanson: "Living the Gospel in Turbulent Times"
2011: Rev. Heidi Neumark: "Building the Beloved Community"
2010: Dr. Marcus J. Borg: "An Emerging Form of Christianity Today"
About the Johnson Symposium

Holy Trinity has long sought to provide opportunities for conversations about faith and life.  Designed to celebrate and honor the exemplary ministries of Pastors Ronald K. Johnson and Stacy K. Johnson during a creative and exciting period in the life of the congregation, the Johnson Symposium on Faith and Society is envisioned as an annual event in which a leading theologian, scholar, and/or practitioner will be present to lead conversations over a two day period on important issues facing the church and society today.