The Johnson Symposium on Faith & Society Registration
November 10 & 11, 2017
Friday Evening
5:45 — Doors open
6:15-7:00 — Opening Music by The Poetic Diaspora
7:00-9:00 — Evening Performance with Don Saliers and Emily Saliers
Saturday Morning
8:00 — Doors open
8:30-10:15 — "Faith, Activism, and Justice: Reflections on Music as the Heart of Social Movements," Part One,
with Don Saliers and Emily Saliers
10:15-10:45 — Break
10:45-12:00 — "Faith, Activism, and Justice: Reflections on Music as the Heart of Social Movements," Part Two,
with Don Saliers and Emily Saliers
Note: No refunds will be given for unused tickets.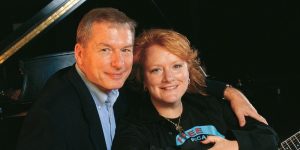 About Dr. Don E. Saliers and Emily Saliers:
Dr. Don E. Saliers is currently the Theologian-in-Residence after retiring in 2007 as the William R. Cannon Distinguished Professor of Theology and Worship at Candler School of Theology at Emory University. In addition to publishing widely in the fields of theology, liturgy, and music, don is a composer of liturgical music and is an accomplished keyboard player with both a classical and jazz background.
Emily Saliers is best known as part of the Grammy Award-winning Indigo Girls, celebrated for their tireless work for social justice.
Don Saliers and Emily Saliers, father and daughter, spoke to Rolling Stone about why it's important for the church to evolve in its teachings, why music activism is essential, and the reason it's imperative that we don't get used to the hateful words being spoken in the public square.
Can you tell me why you think music is important in this context, as a form of activism?
Don: Any significant social movement in the history of human kind…relies on music, it relies on song. The civil-rights movement: Keep Your Eyes on the Prize, We Shall Overcome. South Africa and the anti-apartheid movement. Any deep social movement has music at its heart because music is a unifier and a motivator.
Emily: I think music stir[s] our spirits and makes us feel good. For Indigo Girls concerts, I know there's a lot of singing going on. And I know when people get together in a public forum and sing, it's cathartic. It's mysterious, really, but there's no doubt about it. In the history, when there are human trials, the presence of music has to be there to galvanize people.
Don: One subset of that point is that people have to sing about their suffering. If you think about slave songs and how it influenced the civil-rights movement, wherever it happened, hearing and being honest about the suffering and that's what we're talking about here, a form of social suffering. I'm interested in recovering that inside the church.
–Rolling Stone magazine, May 2016
---
*Field is required for processing