Dialogue Events
Dialogue events occur periodically at Holy Trinity as another component of the congregation's desire to engage what is going on in the world from a Christian perspective.  Often held over a meal, such dialogues occur in response to the presentation of a social commentator, cultural observer, biblical scholar, or theologian in which important concerns affecting the community of faith can be identified and explored together.
Upcoming dialogue event:
Thursday, January 26: Dialogue Breakfast Exploring Legislative Issues in 2017
We fell called to speak out about social injustice. For many years, we have had a group attend Joint Religious Legislative Coalition's "Day on the Hill." This year the Peace with Justice Committee would like to offer an opportunity to learn about the chosen issues in advance so that we can be better prepared, encourage more people to attend Day on the Hill, and learn more about the impact we can make as individuals if we can't attend an all-day event. Come January 26 from 8:00-9;45 a.m. for a preview of the issues that JRLC has chosen for 2017, presented by Ann Krisnik, Executive Director. Breakfast will be served!
Register Here or call the church office at 612-729-8358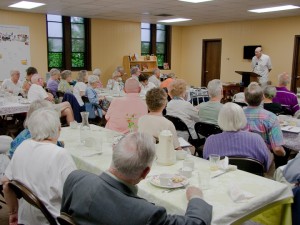 Previous dialogue event presenters include:
Francisco Muñoz, Nicaraguan coffee and vegetable farmer and author (April 2016)
John Abraham, College of St. Thomas (January 2012)
Jack Nelson Pallmeyer, MN ASAP (October 2011 and 2015)
Patricia Torres Ray, State Senator (June 2011)
Father Jesus Alberto Franco, Executive Secretary of the Inter-church Commission for Justice and Peace (Comision Intereclesial de Justicia y Paz) (October 2010)
Philip Wheaton, Episcopal priest and former director of the Ecumenical Program for Interamerican Communication and Action (August 2010)
Santwana Dasgupta, Director of the Partnership for the Education of Children in Afghanistan (July 2010)
Jarmo Tarkki, Lutheran pastor and Jesus scholar (April 2010)
Sami Rasouli, Iraqi peacemaker (November 2009)
Barbara Hoese, President of Inventure Group, helping people bring purpose to work (October 2009)
John Marty, State Senator (March 2009)
Alicia Ranney, Director of Minnesota Fair Trade Coalition (November 2008)